Facilities
Salt Creek Golf Club is operated by the Wood Dale Park District. Here is an overview of our facilities…
Clubhouse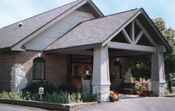 The Salt Creek Golf Clubhouse is home to our popular Creekside Cafe restaurant; as well as our Banquet Facilities capable of accommodating up to 200 guests with dancing. You can also enjoy our open air patio; as well as our bar area with several strategically-located TVs, so you can stay on top of the latest sports action. Salt Creek's Clubhouse also offers panoramic views of our Executive Golf Course.
Please note, our restaurant is open weekdays, late April thru late September weather permitting and closed from October thru late April.
Our bar area is open Monday through Sunday from 10:00 a.m. until closing.
Executive Golf Course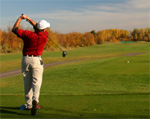 Our Executive Golf Course can be played as 9 or 18 holes. Set amidst gently rolling terrain, mature trees and beautiful ponds, Salt Creek's 3,985 yard, par 63 course challenges players of all skill levels with tree-lined fairways and strategically placed sand bunkers; as well as demanding water hazards on several holes.
TopGolf Wood Dale
Salt Creek Golf Club is also the new home of one of the world's most technologically-advanced driving ranges, TopGolf Wood Dale. The facility, which is one of only twenty-three locations in the United States and the only one currently in the Midwest, is revolutionizing the way golf is practiced. With TopGolf, each golf ball is embedded with a special micro-chip; which provides players with real-time feedback on the accuracy of each of their shots. Scores are tabulated on that basis.