TopGolf Wood Dale
Great Fun For All Ages!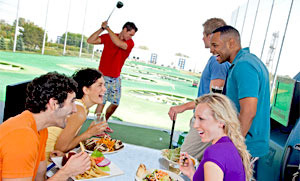 So what is TopGolf? It is a point-scoring golf game created by a British Company, World Golf Systems. The technology which took years to refine includes a tiny micro-chip that is fitted into the center of each golf ball. The game is played with real clubs with players aiming at dart board type targets from 25 yards to 240 yards. Each player's score is tabulated by how close his/her shot is to the center of each target. TopGolf is set up to reward golfers who consistently make accurate shots. Over $8 million was invested to enhance our current site.
TopGolf also allows golfers to just practice hitting balls without the use of the micro-chip technology. The facility will includes an 18-hole miniature golf course, restaurant, bar and pro shop for all your needs. What a great addition to the community of Wood Dale. This new TopGolf facility is one of only three in the U.S.A. at this time.
For more information about TopGolf, please visit…