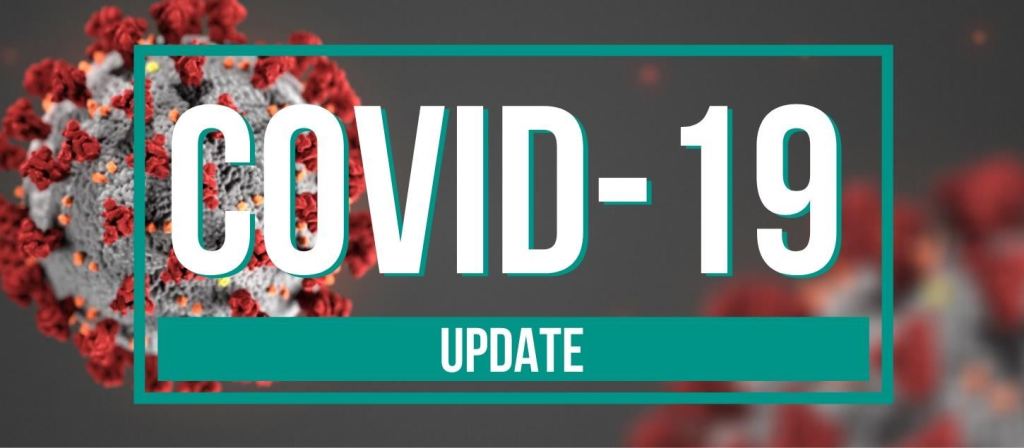 Phase 4 Re-Opening Plan Summary
(As of Friday, June 26, 2020 – information subject to change)
COVID-19 Statement and General Guidelines
The health and safety of our participants, families and staff is paramount. Guidelines and expectations, based on the recommendations of the "Restore Illinois" Plan, Center for Disease Control and health departments at the state and county level have been put in place to minimize the risk of exposure to COVID-19. Please adhere to the following guidelines when participating in a Wood Dale Park District program or event or visiting one of our facilities.
Social distancing will be encouraged at all times.
Adult participants or guardians in the case of a minor must fill out a symptom checklist prior to participating
In the event a six-foot distance cannot be achieved outdoors, a face cover must be worn
Face covers must be worn in facilities in public spaces.
There shall be minimal sharing of equipment
There will be no sharing of personal property
Sanitizer will be available at each venue
Good handwashing techniques and frequency are encouraged
Indoor facilities and outdoor restrooms are on a strict cleaning and disinfection regimen
Any individual exhibiting symptoms of illness may be asked to leave the facility
Groups may not be greater in size than 50 people
A log of all participants, families, and staff must be taken at each program and facility.
Additional program-specific guidelines may be put in place to supplement this information.
COVID-19 Program Participant and Facility Visitor Code of Conduct
All program participants, spectators, and families should be aware of and familiar with the COVID-19 guidelines before participating in an event or visiting an indoor or outdoor venue.
All program participants, spectators and families, and indoor and outdoor venue users must follow the most recent COVID-19 guidelines and signage when participating in a park district program or visiting an indoor or outdoor venue.
Each patron is responsible for their own personal protective equipment.
In the event, a patron doesn't adhere to the specified guidelines they will be given one verbal warning. If at that time the patron is still not in compliance they may be asked to leave. If they refuse to leave the authorities will be notified.
The Wood Dale Park District reserves the right to ask anyone exhibiting symptoms of illness to leave a program or venue.
Program and Facility Updates
Salt Creek Golf Club
Golf

Salt Creek Golf Club is open for individual and group play. Tee times may be reserved by calling 630-773-0184. At this time the Pro Shop is open. Two players allowed per cart. Rental Clubs and Pull Carts are available for rent. Golf Outings can be booked with limitations.
Food and Beverage

The outdoor grill is open and beverage service is available. Hours vary. A limited menu is offered at this time. The beverage cart will be on the course during peak times. Inside dining will be available only in the case of severe weather. Call the Pro Shop for details at 630-773-0184.
Banquets and Events

Reservations are being taken for weddings, events, and outings with limitations. For more information contact Renee Carrell at rcarrell@saltcreekgolfclub.com
Footgolf

Plans to re-open the Footgolf course are underway. For updates go to www.saltcreekgolfclub.com, or call the Pro Shop at 630-773-0184.
Mini-Golf

Plans to re-open the Mini-Golf Course at the former TopGolf facility are underway. For updates visit www.saltcreekgolfclub.com, or call the Pro Shop at 630-773-0184.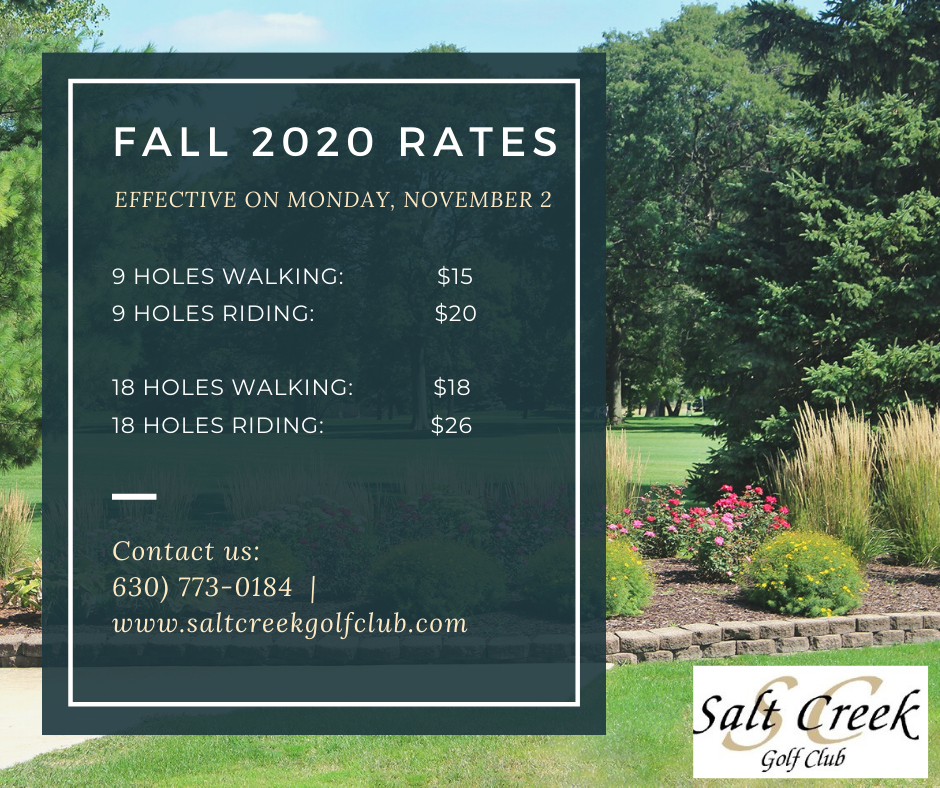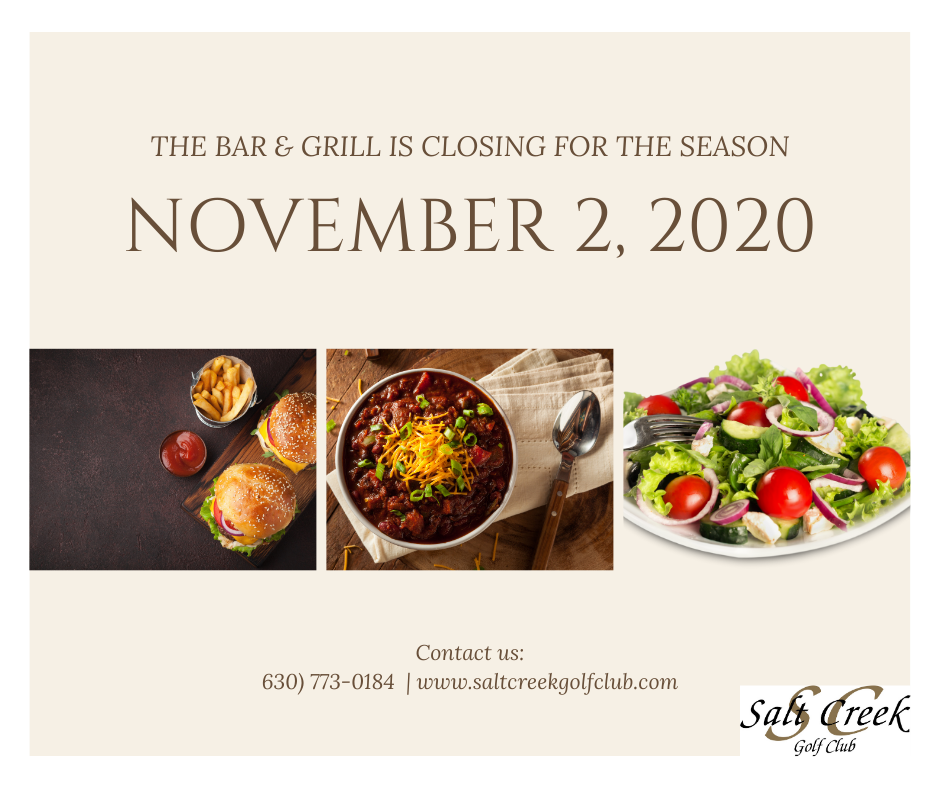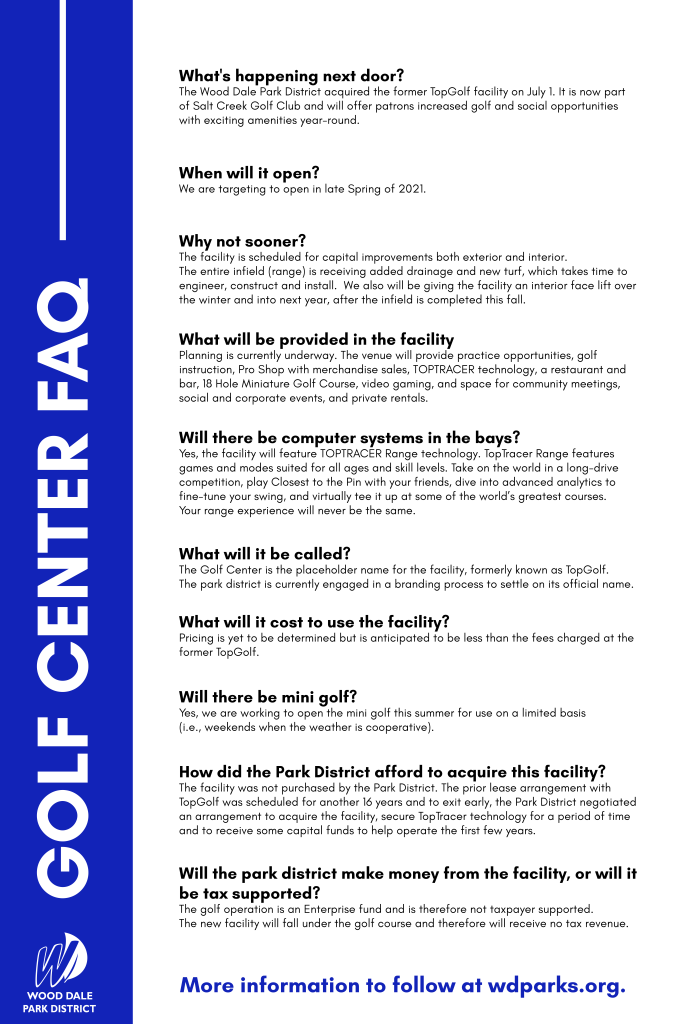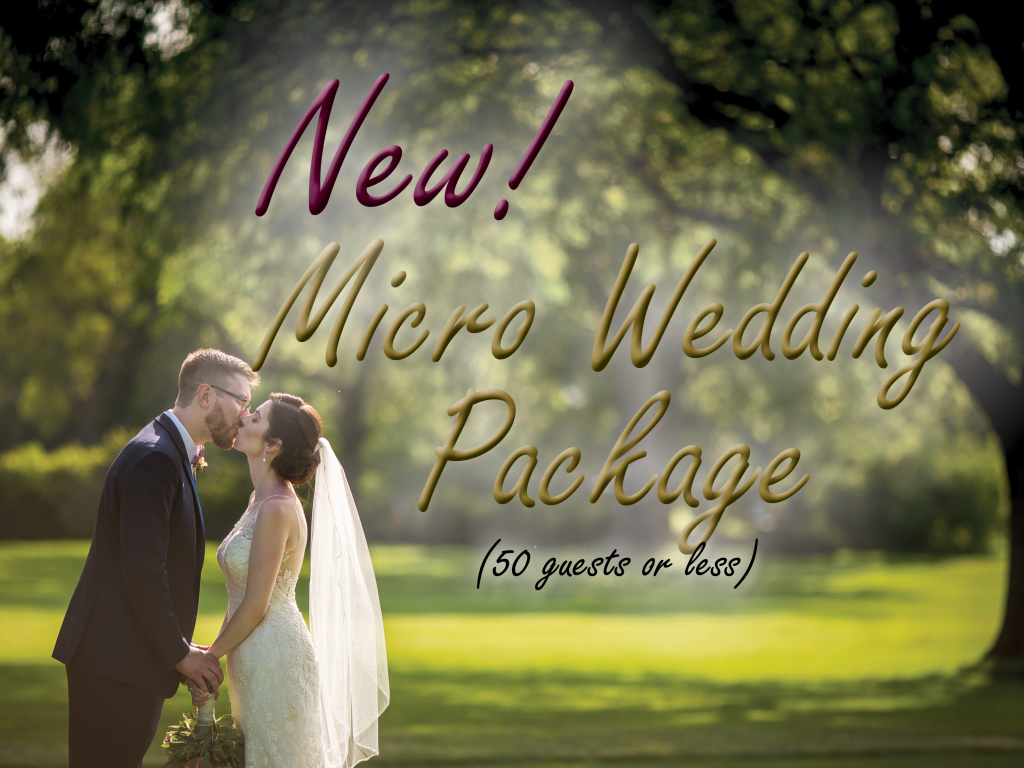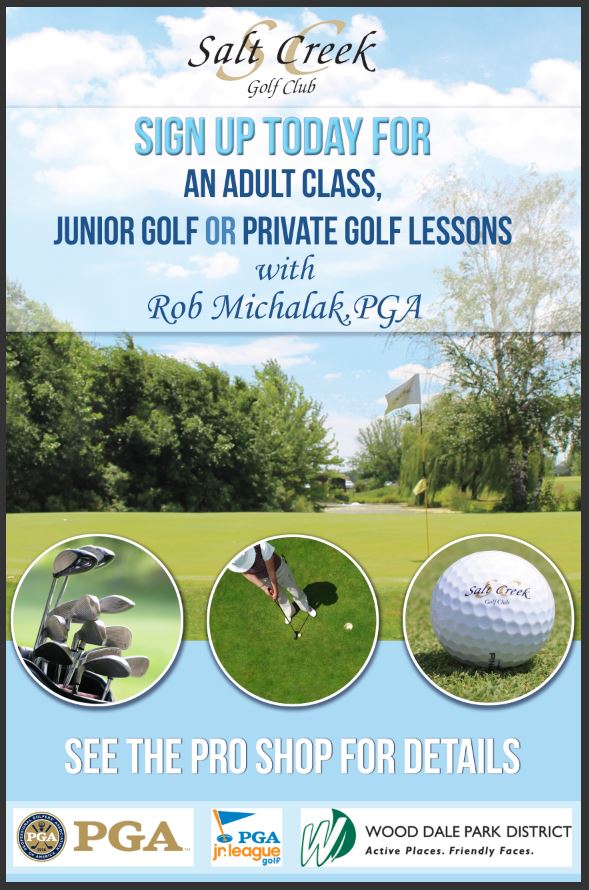 GOLF CENTER UPDATE
Wood Dale Park District assumed management and operations of the Golf Center, formerly TopGolf, on July 1, 2020, and anticipates opening in 2021.
The Golf Center is the placeholder name for the facility until a name is established. The latest Wood Dale Park District venue will be part of Salt Creek Golf Club and will offer patrons increased golf and social opportunities with exciting amenities. These two venues will work together to provide golf instruction, practice opportunities, and space for community meetings, social and corporate events, and private rentals. Stay tuned and check back for more information and updates!

PLAY OUR EXECUTIVE COURSE, OR JUST JOIN US FOR LUNCH
Whether you're playing 9 or 18 holes of golf, our Executive Golf Course is the perfect choice. Set amidst gently rolling terrain, mature trees and beautiful ponds, Salt Creek's 3,985 yard, par 63 course challenges players of all skill levels with tree-lined fairways and strategically placed sand bunkers. Afterward, you can unwind with your friends in our popular The Bar & Grill with a refreshing drink or a delicious meal.

PLANNING A GOLF OUTING, BANQUET OR SPECIAL EVENT?
Salt Creek Golf Club is also the ideal venue for your next golf outing, banquet or other function. Our banquet facilities can accommodate functions ranging in size, up to 200 guests with dancing. In addition to an extensive menu selection of exceptional quality, your guests will enjoy superior service and breathtaking views of our Executive Course from our Clubhouse and patio. You can now download our complete event information package in PDF format.
Click Here for our Banquet Menus.