Salt Creek Golf Club is located at 1051 N. Prospect Avenue in Wood Dale. For more information, please call 630.773.0184.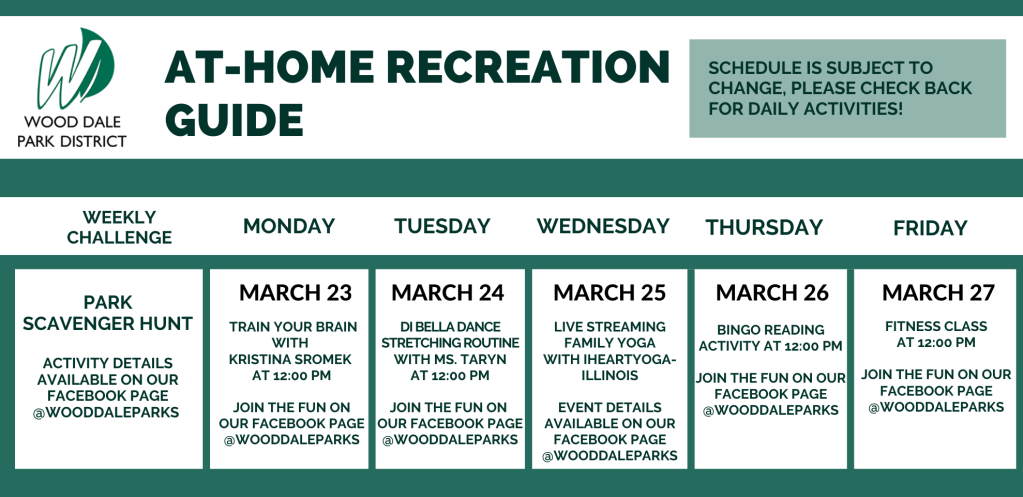 Effective at 8:00 PM on Friday, March 20:
Following Governor Pritzker's announcement this afternoon of a statewide "stay at home order", we wanted to provide an update to our Wood Dale community.
The closure of District facilities will extend to April 7 and all District playgrounds, including the White Oaks Park Dog-Friendly Area, will be closed beginning Saturday, March 21 at 5:00 pm until further notice per Illinois Executive Order 2020-10.
However, please note that District parks remain open for walking, hiking, running and biking as long as park users comply with social distancing requirements.
We will continue to monitor information from local, state and national authorities to determine the next steps if we need to extend our closure beyond April 7.
Be sure to keep an eye on this webpage for additional updates.
During this time, our Recreation team will be serving and engaging with the community through Facebook by posting and sharing virtual recreation activities. Check out our Facebook page today at https://www.facebook.com/wooddaleparks/ to join the fun!
We look forward to serving you in person again in the near future.
Mission -"Serving the community with quality recreational experiences that provide a fun and healthy lifestyle"
Wood Dale Park District will assume management and operations of the Golf Entertainment Center, formerly TopGolf, in the Summer of 2020 and anticipates opening in the Fall of 2020. The Golf Entertainment Center is the placeholder name for the facility until a name is established. The latest Wood Dale Park District venue will be part of Salt Creek Golf Club and will offer patrons increased golf and social opportunities with exciting amenities. These two venues will work together to provide golf instruction, practice opportunities, and space for community meetings, social and corporate events, and private rentals. Stay tuned and check back for more information and updates!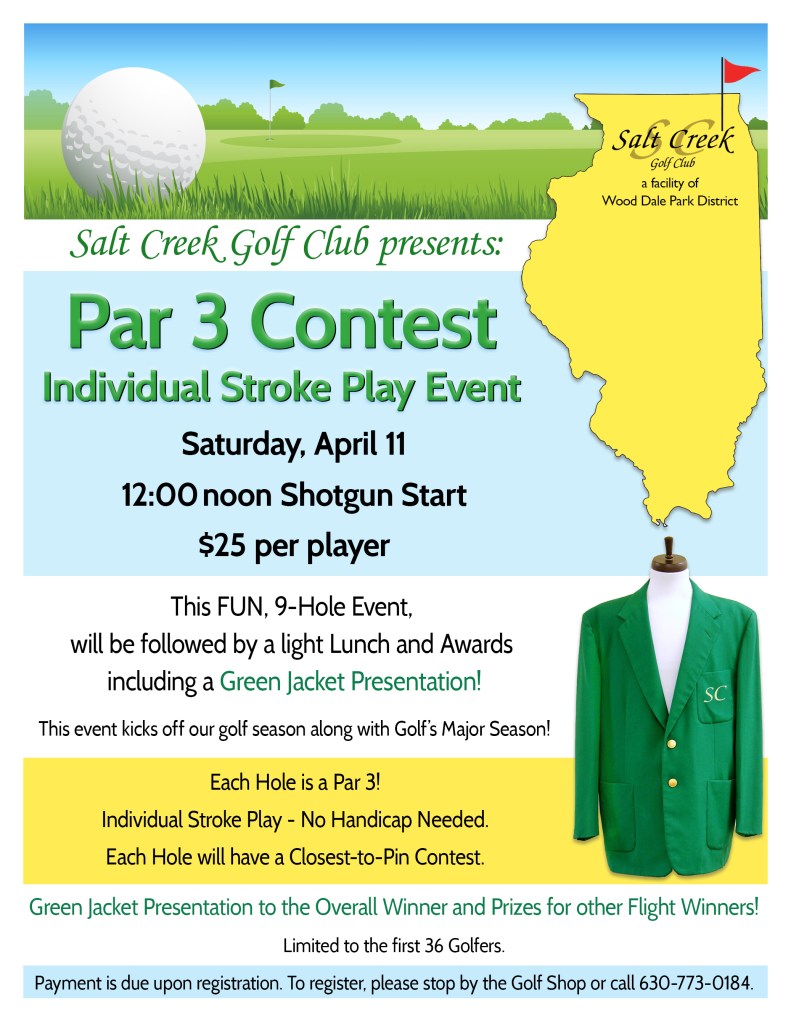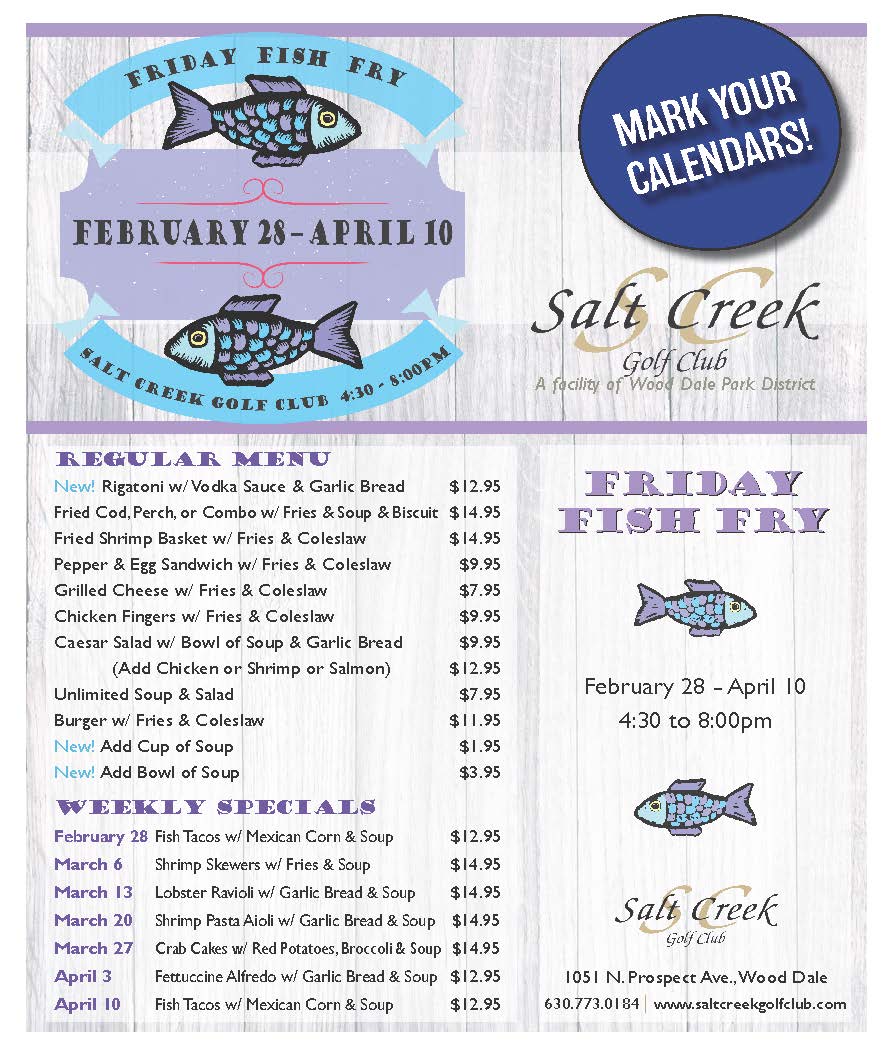 Attention:
The Wood Dale Park District is closely monitoring developments regarding the global spread of COVID-19, also known as the Coronavirus. Our priority is the health, safety, and well-being of the Wood Dale community. We continue to monitor this situation and are looking to the guidance issued by the Centers for Disease Control and Prevention (CDC), the Illinois Department of Public Health (IDPH), the Cook County Department of Public Health (CCDPH) and other health authorities as we strive to ensure that the Wood Dale community is informed of our efforts to manage the Coronavirus disease.
As of this morning, there were three more confirmed cases of Coronavirus in Illinois, with two individuals quarantined in hospitals and the spouse of one individual at home in isolation. There currently are 286 suspected cases in Illinois that are being closely monitored. While that number seems large, the IDPH confirmed 263 cases of the flu in Illinois for the week of February 22, 2020, the most recent week they've reported.
The Centers for Disease Control and Prevention offers a number of recommendations for individuals and employers to stay healthy, prevent the spread of coronavirus, flu, the common cold, and other illnesses, as well as travel recommendations on their website: https://www.cdc.gov/flu/prevent/actions-prevent-flu.htm
Cook County Department of Public Health
Website: https://www.cookcountypublichealth.org/
Illinois Department of Public Health Website: http://www.dph.illinois.gov/
Information about coronavirus can be found on the Centers for Disease Control and Prevention website: https://www.cdc.gov
To view the official press release, click here.


PLAY OUR EXECUTIVE COURSE, OR JUST JOIN US FOR LUNCH
Whether you're playing 9 or 18 holes of golf, our Executive Golf Course is the perfect choice. Set amidst gently rolling terrain, mature trees and beautiful ponds, Salt Creek's 3,985 yard, par 63 course challenges players of all skill levels with tree-lined fairways and strategically placed sand bunkers. Afterward, you can unwind with your friends in our popular The Bar & Grill with a refreshing drink or a delicious meal.

PLANNING A GOLF OUTING, BANQUET OR SPECIAL EVENT?
Salt Creek Golf Club is also the ideal venue for your next golf outing, banquet or other function. Our banquet facilities can accommodate functions ranging in size, up to 200 guests with dancing. In addition to an extensive menu selection of exceptional quality, your guests will enjoy superior service and breathtaking views of our Executive Course from our Clubhouse and patio. You can now download our complete event information package in PDF format.
Click Here for our Banquet Menus.